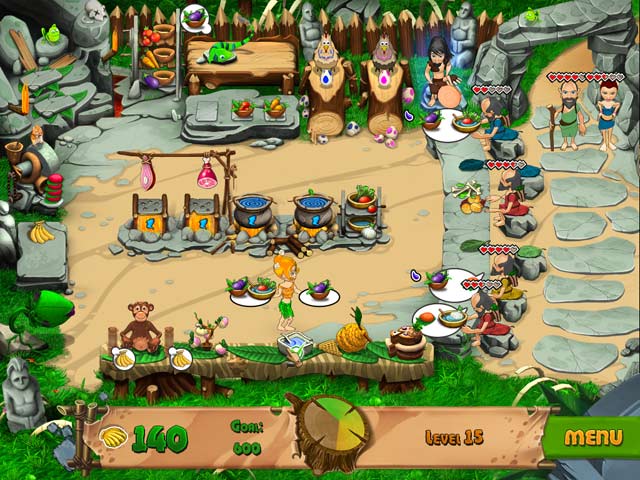 Manage your own cafe in the Stone Age era to save your tribe from hunger and earn some tribal cash in Stone Age Café! The tribe's shaman has foretold Chuchii's destiny: she's going to become the tribe's cook! What she doesn't know is that a great cook can not only save the day, but change a whole tribe's fate! Run the Stone Age Café and save Chuchii's entire tribe in this incredible Time Management game!. This is the PC version. Also available for: Mac
Game Features:
Fulfill Chuchii's destiny!
Manage the Stone Age Cafe!
Feed the tribesmen!
Play Free for 1 Hour
Quality tested and virus free. No ads, no adware, no spyware.
Download service provided by Big Fish Games
Full PC Version
$7.27 AUD ($ 6.99 USD) with Game Club Membership
Full price $10.39 AUD
PC System Requirements:
OS: Windows XP/Windows Vista/Windows 7
CPU: 1.0 GHz
RAM: 768 MB
DirectX: 7.0
Hard Drive: 116 MB
Screenshots
Click on image to enlarge
About Big Fish Games
Discover something new every day with Big Fish Games where you'll find a wide selection of interactive games that you can enjoy anytime, anywhere — on your PC, Mac, mobile phone or tablet. Big Fish Games quality-test all their games and offer a free trial of every game before you buy. Join the Big Fish Games Club and save 30% on all game purchases.
Big Fish Games are available in English and 9 other languages: